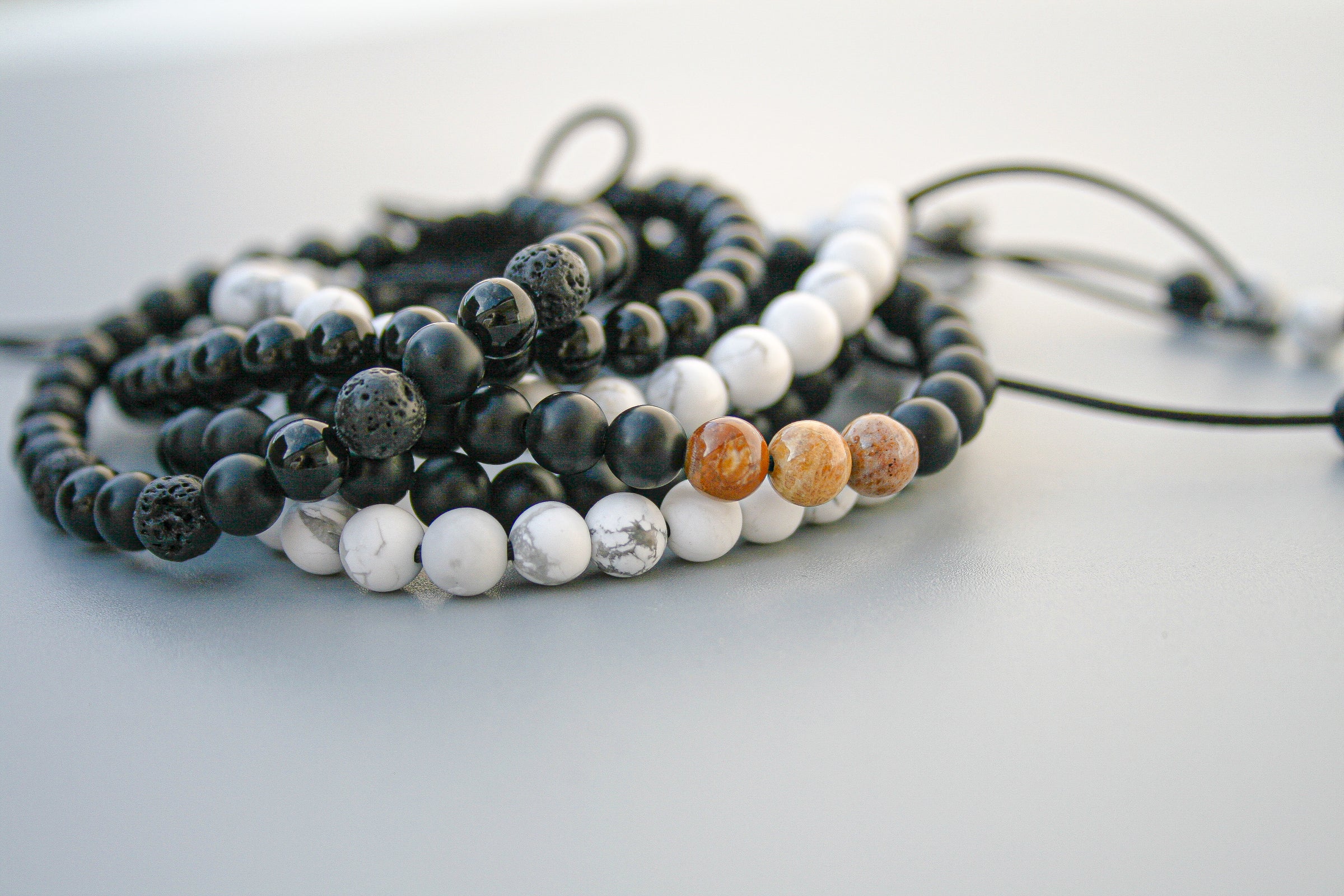 Pearl bracelets for him and her
Welcome to our exclusive collection of handcrafted gemstone bead bracelets, where the beauty of nature and the artistry of our craftsmen come together in harmonious unity. In this category, you will discover a rich selection of unique bracelets crafted from high quality gemstone beads. Dive into the world of onyx gemstone beads, lava gemstone beads and howlite gemstone beads to experience timeless elegance, natural power and subtle beauty.


Onyx Gemstone Beads


Our onyx gemstone bead bracelets embody timeless elegance and a powerful presence. Deep black onyx represents strength, confidence and protection. Each bead is carefully selected and artfully crafted by our expert artisans to create a piece of jewelry of unparalleled quality. These bracelets are perfect companions for formal occasions and can add an aura of sophistication to your look.


Lava Gemstone Beads


The Lava gemstone bead bracelets in our collection embody the raw power and energy of nature. Lava stones are naturally porous and can absorb essential oils, making them ideal for aromatherapy. These bracelets not only provide a unique visual experience, but also allow you to wear your favorite scents in your everyday life. Our artisans carefully select the lava beads and give them a high-gloss finish to enhance their beauty.


Howlite Gemstone Beads


Our howlite gemstone bead bracelets exude an earthy beauty and tranquility. Howlite gemstones are available in a mix of matte and high-shine beads, allowing you to experience the diversity of this fascinating stone. Howlite is often associated with patience and serenity, and can help promote inner harmony. These bracelets are perfect companions for everyday wear and can give you subtle, yet effective radiance.

**Our craftsmanship:**

Each of our gemstone bead bracelets is made by skilled artisans with the utmost precision and dedication. We take great care in selecting the finest gemstone beads to ensure that each piece of jewelry is unique and tells its own story. The beads are strung on a high quality cord and artfully crafted to ensure longevity and comfort.

**Your Benefits:**

- **Natural Beauty:** Our gemstone bead bracelets give you a natural, authentic look that enhances your personality.

- **Variety:** Choose from a variety of gemstones and finishes to find the exact bracelet that suits your style and mood.

- **Uniqueness:** Because each bracelet is handmade, it is unique and belongs only to you, highlighting your individuality.

Experience the magic and power of gemstones in our handmade beaded bracelets. Order today and discover the timeless beauty and natural power of these extraordinary pieces of jewelry. Our goal is to create jewelry that is not only aesthetically pleasing, but also has a deeper meaning and impact. Show off your personality and enhance your style with these exclusive accessories.