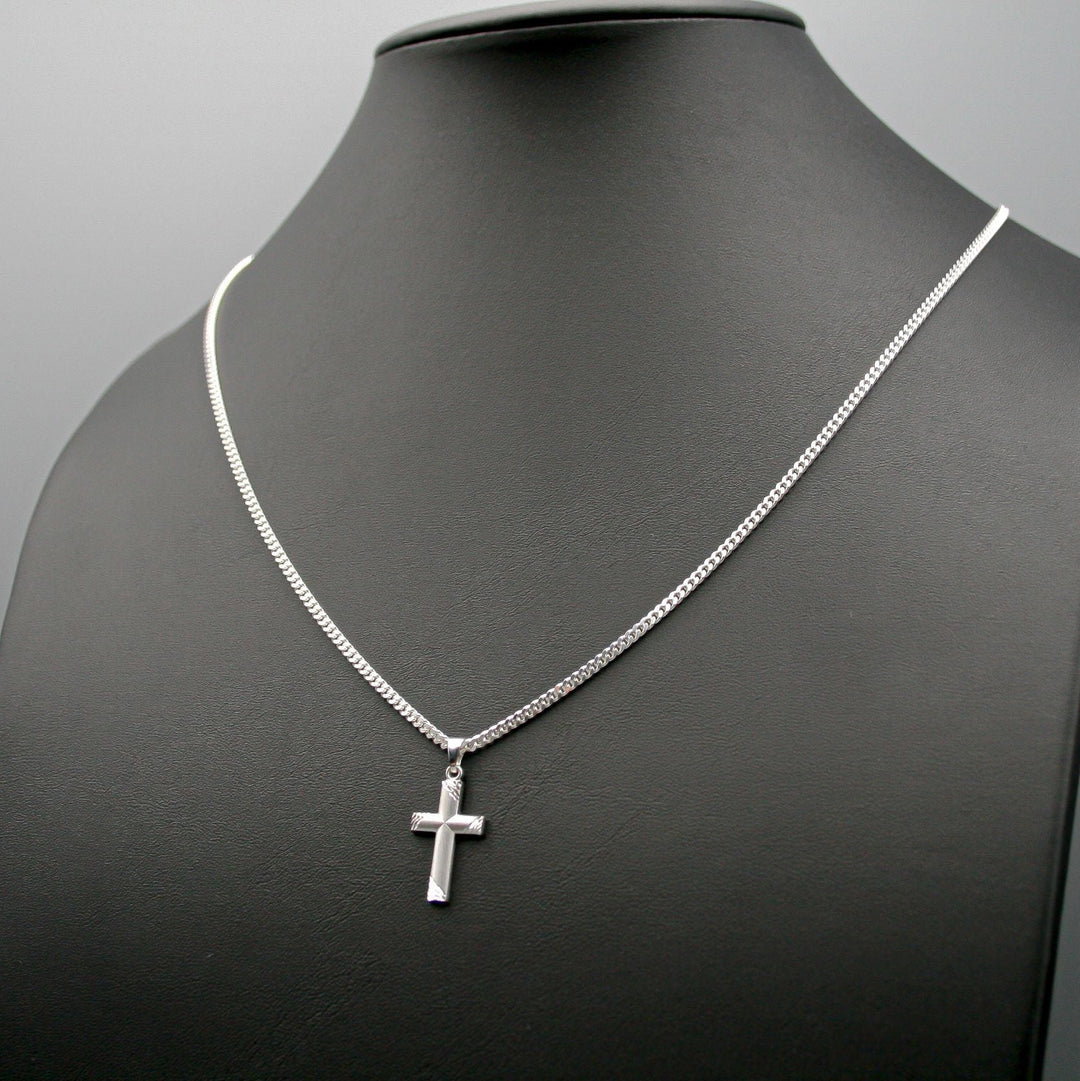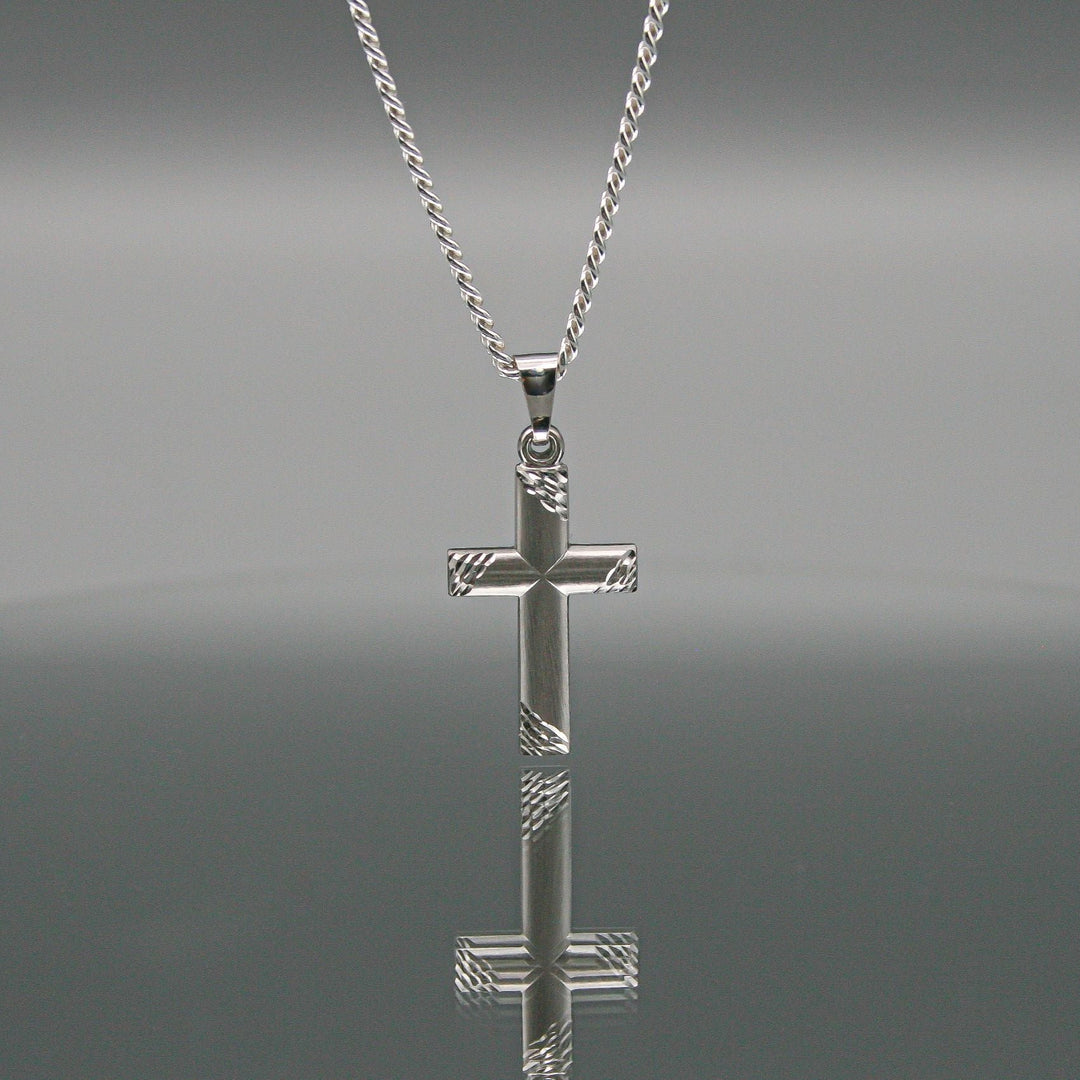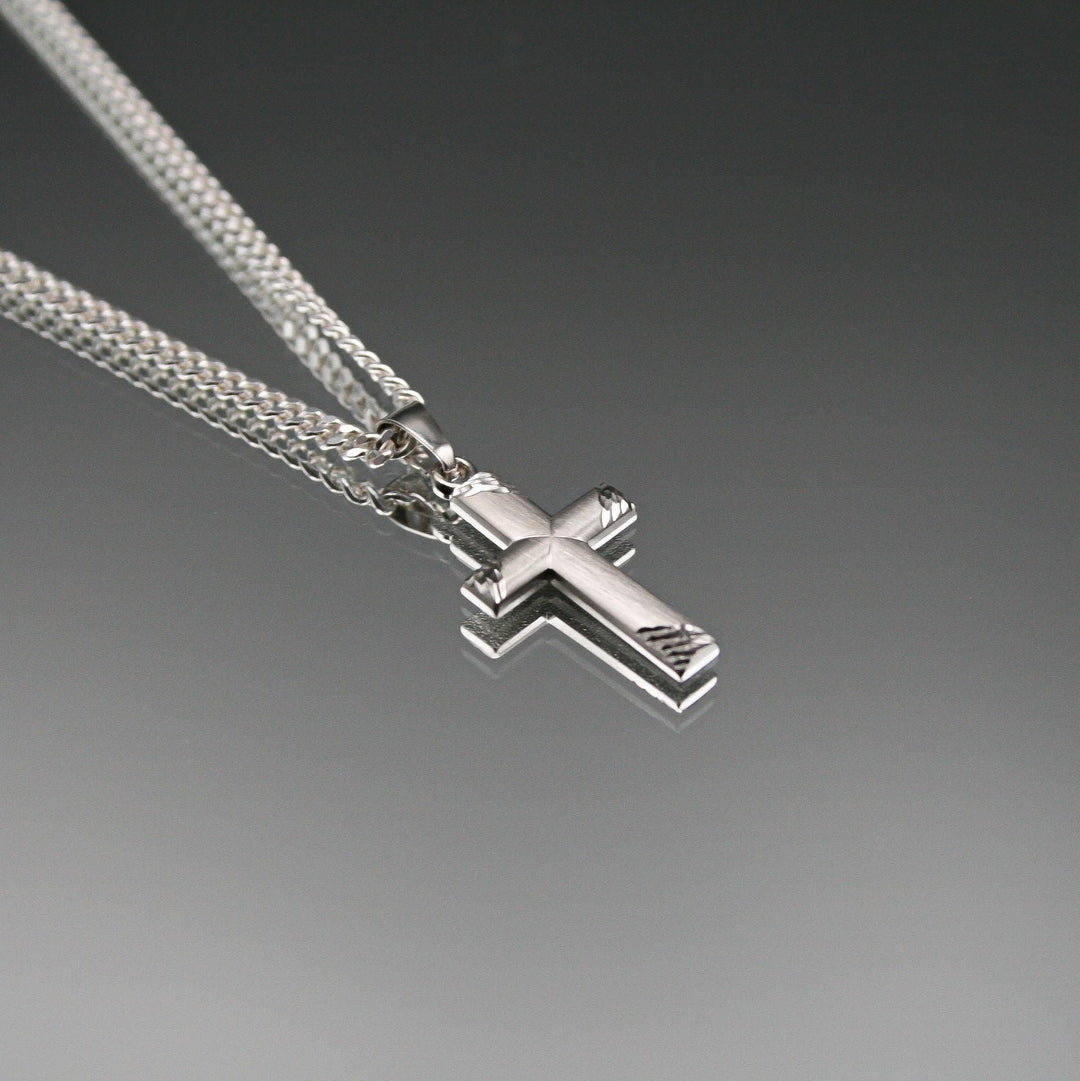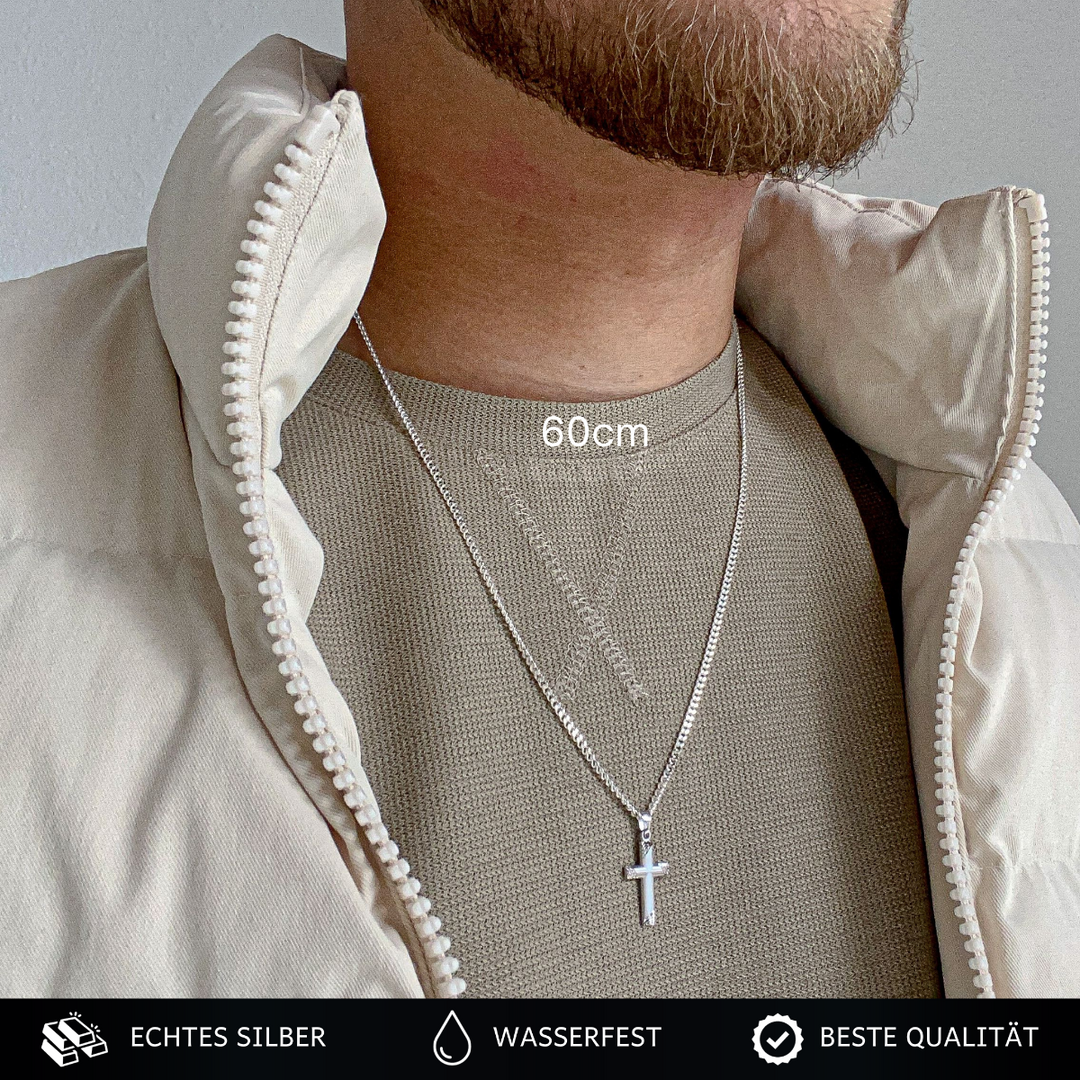 925 silver necklace with cross pendant "Small" 2.4mm
Regular price
€54
Sale price
€46
Save €8
/
Tax included.
Shipping
calculated at checkout.
---
Ready for shipment within 24 hours
In your hands in 1-3 business days

Panzer / Cuban Link Chain necklace with cross pendant in 925 silver in 2,4mm
An elegant Panzer / Cuban Link Chain necklace and an elegant cross pendant make this 925 silver jewelry piece a perfect must have.
Solid Panzer / Cuban Link Chain necklace made of 925 genuine silver in 2,4mm thickness. The Panzer / Cuban Link Chain necklace features a lobster clasp also made of 925 genuine silver. The surface of the Panzer / Cuban Link Chain necklace is highly polished. The elegant cross pendant and is also made of 925 genuine silver.
Metal type: 925 sterling silver
Surface : Polished
Weight Specifications :
Cross without chain: 1.83 grams
Cross + 45cm chain: 8.43 grams
Cross + 50cm chain: 9.26 grams
Cross + 55cm chain: 10.03 grams
Cross + 60cm chain: 10.83 grams
Chains Details:
Chain width: 2.40mm
Chain model: Panzerkette
Clasp: lobster clasp
Cut: 2 sides diamond
Pendant Details/Dimensions:
Length with eyelet: 28.00mm
width: 13,00mm
Height: 21,00mm
Coating: Rhodium
The shipment is carried out by DHL Paket GmbH.
Within Germany, the delivery time is usually 1-3 business days, but may be extended by 1-2 more business days depending on the situation. For deliveries outside Germany the delivery time is 2 - 8 working days. If your order within Germany after 7 days and outside Germany after 14 days still has not arrived, please send us a message immediately.
Shipping costs are 5 € per order within Germany.
From a value of goods of 100 € the delivery is free of shipping costs.
For shipping outside Germany but within the EU countries the shipping costs are 16 €
If you specify a wrong shipping address in your order or do not accept the package on delivery, you will have to pay for the additional shipping costs.
The goods remain our property until full payment of the purchase price
Your 14 days return policy
Thank you for your order. Of course we hope that you are satisfied with our products.
However, if you are not satisfied with something, we would like to help you to return your product easily and free of charge within 14 days from receipt of the goods. Within this time you can return your order to us without giving any reason. The return must be made in the jewelry case provided by us.
You can register your return here: START NOW
Fill out the return form and print out your free shipping label.
You don't have a printer nearby? No problem!
Fill out the return form and use the QR code you will receive by email. Simply bring your package to the post office and show your QR code to the employee. He will print out the label for you.
We would still appreciate it if you could let us know why your order did not suit you.
Download the return form here
Please note that:
Returns are only accepted for new merchandise. If you discover a defect after receiving your order or it is incomplete, the return must be registered with us beforehand. Otherwise, we cannot guarantee a full refund of your purchase price.
If the 14-day return period has been exceeded and no explicit extension has been confirmed by us, you will not be entitled to a refund and your package will be automatically returned to you.
How should I return the order?
When preparing your order for return to us, please make sure that each item is properly packed. This will prevent damage during shipping and make it easier for us to process your return. We thank you for your support.
When will I receive my refund?
As a rule, your purchase price will be refunded within 10 days of receipt of your return. The same payment method you used to pay for your order will be used automatically. We thank you for your understanding.
How to return your order:
Download the return form at the top of this page. Include the completed form in your package prepared for return. Please make sure that the products are properly packed.
Send your return exclusively to:
Deinschmuck by TL / Thomas Lichanow / Singenerstraße 1 / 78315 Rottweil
Keep your postal receipt as proof until the refund has been made.
Further Info
Exchange: If you wish to exchange an item, we will send you a new item free of charge after receiving the item to be exchanged. Of course, your request for an exchange must be communicated with us in advance.